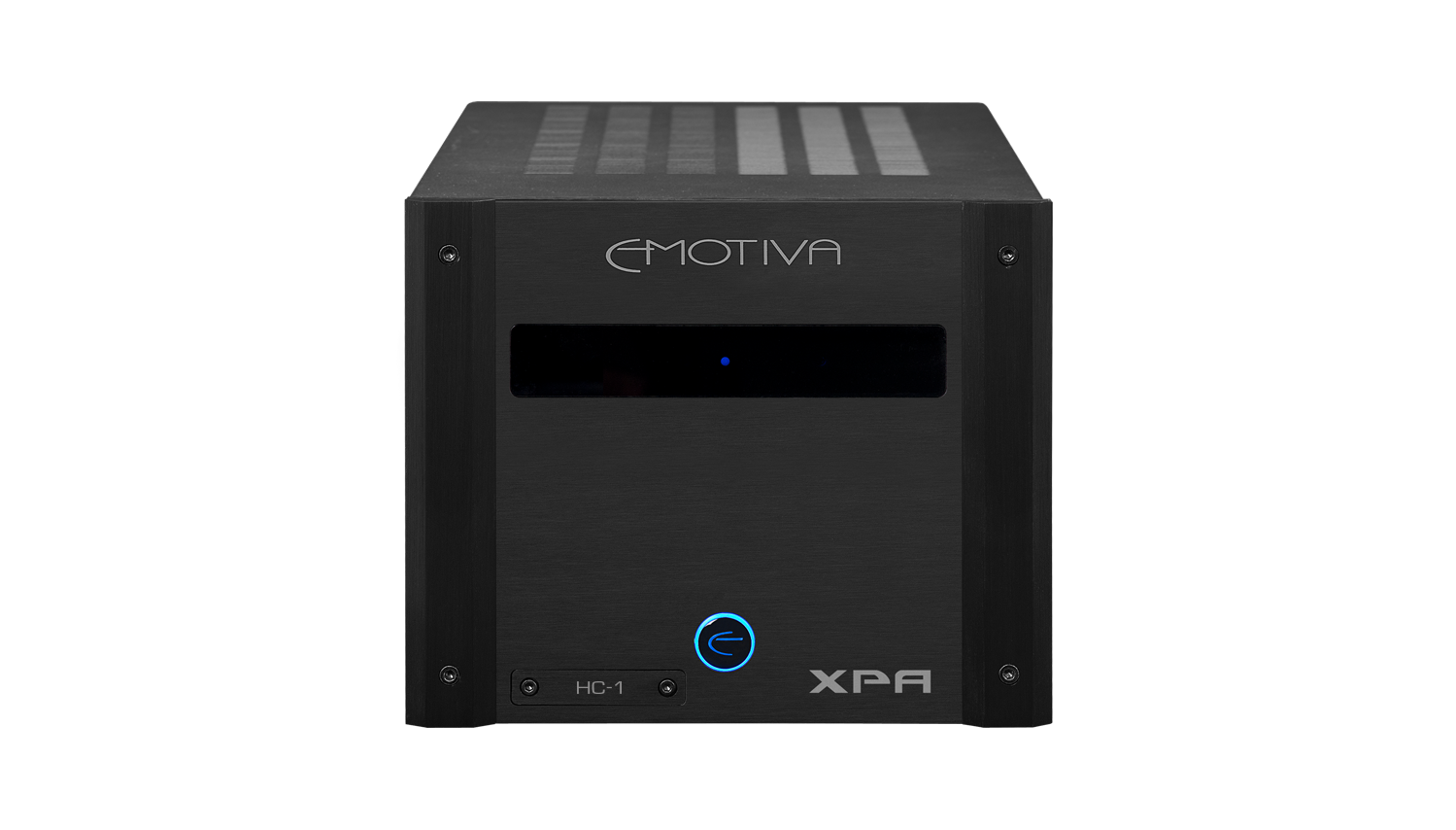 Circuit Topology

The XPA HC-1 is a monoblock audio power amplifier, with a fully discrete, dual
differential, high current, short signal path Class A/B amplifier section, Optimized Class H™ power supply topology, and microprocessor-controlled fault protection.
The XPA HC-1 is powered by a high efficiency, audiophile grade, Switch Mode Power Supply (SMPS).
Audio Specifications

The XPA HC-1 features a single High-Powered Single Channel Amplifier Module.
Audio Specifications:


Power Output:
300 watts RMS; 20 Hz – 20 kHz; THD <0.1%; 8 Ohms.
600 watts RMS; 20 Hz – 20 kHz; THD<0.2%; 4 Ohms.
Power Bandwidth (at rated power; 4 Ohm - 8 Ohm load): 20 Hz to 20 kHz (+ / – 0.1 dB).
Broad Band Frequency Response: 5 Hz to 80 kHz +0/-2 dB.
THD + noise: < 0.005%; at 100 watts RMS; 1 kHz; 8 Ohms.
Signal to Noise Ratio (8 Ohm load):
Minimum Recommended Load Impedance: 4 Ohms
Damping Factor (8 Ohm load): > 500.
Input Sensitivity (for rated power; 8 Ohm load): 1.7 V.
Gain: 29 dB.
Input Impedance:
33k Ohms (balanced).
23.5k Ohms (unbalanced).
Input And Output Connections

Input Connections:
Unbalanced (RCA); balanced (XLR); independently selectable.
Speaker Output Connections: Audiophile grade, gold plated, 5-way binding posts.
Trigger:
Power Requirements


Between 100 VAC and 250 VAC @ 50 / 60 Hz (automatically detected).
Front Panel Controls and Indicators


Standby: push button (halo ring changes color to indicate Standby or On).
Status LED: one; blue.
Rear Panel Controls

AC Power switch: rocker switch (switches AC main power).
Status LED switch: disables front panel Status LED and dims Standby button halo.
Input selector switch:
Circuit Breaker: press button to reset circuit breaker.
Protection
The XPA HC-1 is protected against excessive operating temperature, shorted speaker connections, ground faults, and other common fault conditions.